News
October 18 2023
Ian Davenport discusses the challenges and origins of the most ambitious exhibition of his career to date
For Ian Davenport's 10th exhibition with Waddington Custot the artist has created his largest ever wall to floor installations, alongside new and recent work. Since opening on 6 October it has proved to be immensely popular; we sat down with the artist to delve deeper into his work.
Your exhibition in London is hinged around two major installations, or 'Lakes' which fills part of the gallery with highly coloured, pooled paint, your most ambitious work of this type to be shown in a gallery setting. What have been the challenges of making an installation such as 'Lake' on such a large scale?

Scaling up to make a three-dimensional installation of this magnitude has been exciting and a bit daunting. There are over a hundred and twenty litres of carefully mixed colours on each Lake painting. It's difficult to revise once I have started, so there's lots of practice sessions, planning and setting up beforehand. It is an extensive process and along with my studio team, I have had to ensure we have enough materials, paint and aluminium panels; trying to anticipate anything that may go wrong. We fabricated a large separate wooden floor at a very slight angle to encourage the liquid paint to flow at a certain rate and as a platform to support the metal floor plates for the pool. There was also a construction of scaffolding and steps that I would need to access the wall panels and pour paint from the top. We had prepared enough material to make two Lake Paintings and I have included both in the show. After a recent site visit, I realise they only just fit!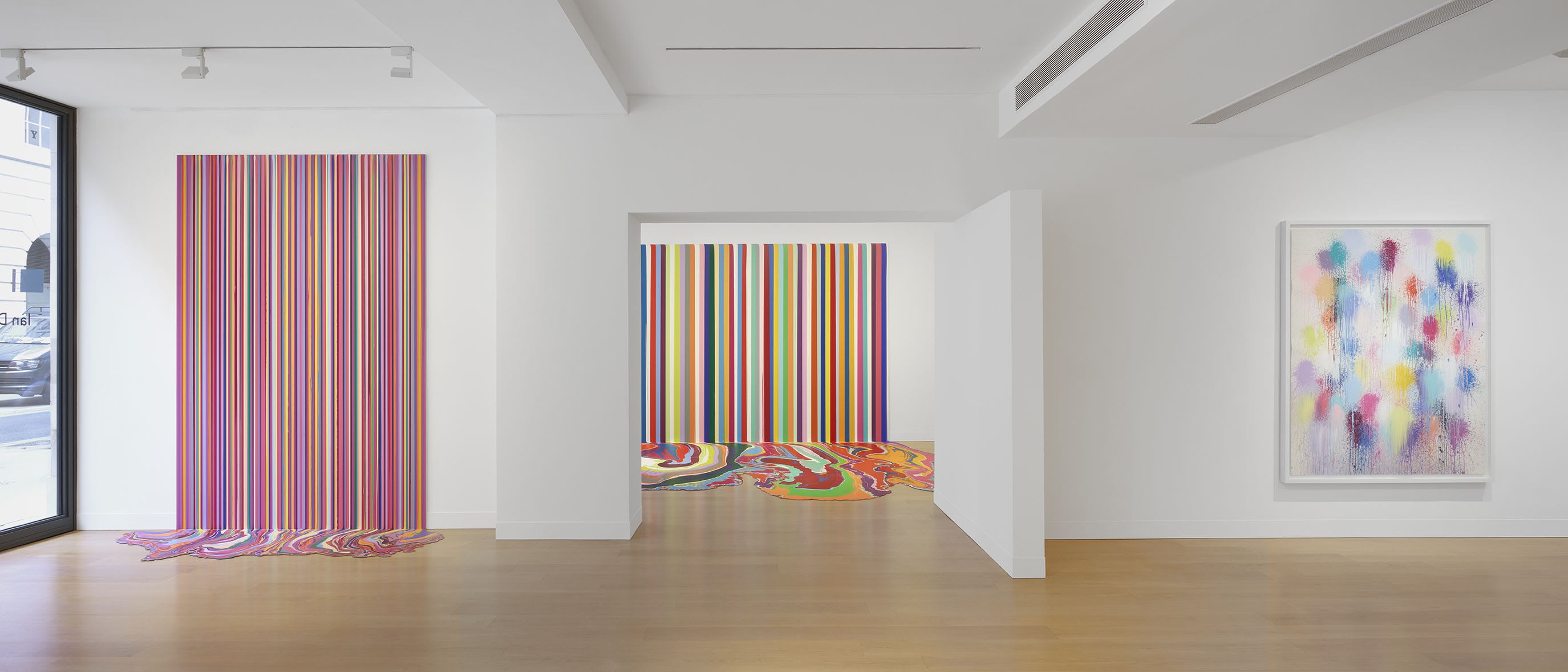 What was the genesis of 'Lake'? How has it evolved from previous installation works?
I began with a series called Poured Line: Paintings, experimenting with using different tools to control the paint. Then a while later I noticed the lines puddling on the floor of the studio, so I incorporated these optical swirls and pools at the bottom of my paintings. Several recent site-specific installations have allowed me to push the possibilities even further. Venice Biennale (Giardini Colourfall, 2017) and the Crazy exhibition at the Chiostro del Bramante in Rome (Poured Staircase, 2021) meant I could play with scale and provide an immersive factor to the works. The Lakes are a synthesis of this evolution.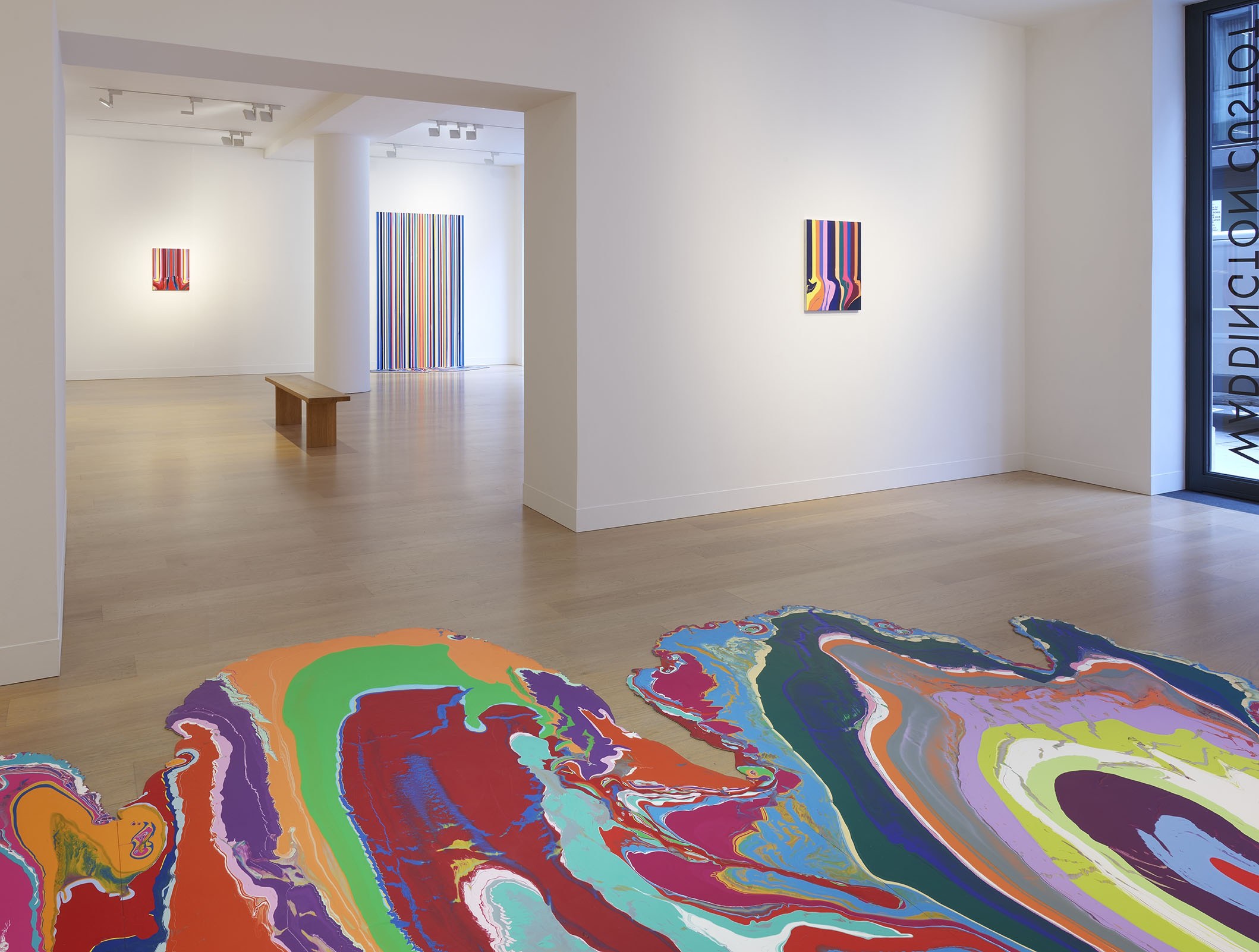 The colours of this and the other works in the show have been inspired by Italian Renaissance paintings, particularly Pietro Perugino's 'Marriage of the Virgin', 1500-1504. Is looking to the past standard practice for you?
It mostly comes from encountering old masterpieces in real life. I saw the Perugino painting in the Brera Museum in Milan and was captivated by the crystalline vibrancy of the masterpiece. I went to Rome in February 2020 to see the Caravaggio paintings in the Chiesa San Luigi dei Francesi and the Basilica Santa Maria del Popolo. Researching the historic paintings means I can select colour combinations and arrangements I wouldn't normally use to retain a 'memory' of the original source.
So much of art history has been influenced by Caravaggio's use of light and shade, 'chiaroscuro' and I wanted to introduce the contrasting sections of light and dark into my own painting. I began using a more symmetrical composition which appears to mirror the left and right sides of a painting – the symmetry allows me to explore light and dark more easily and provides drama for the composition.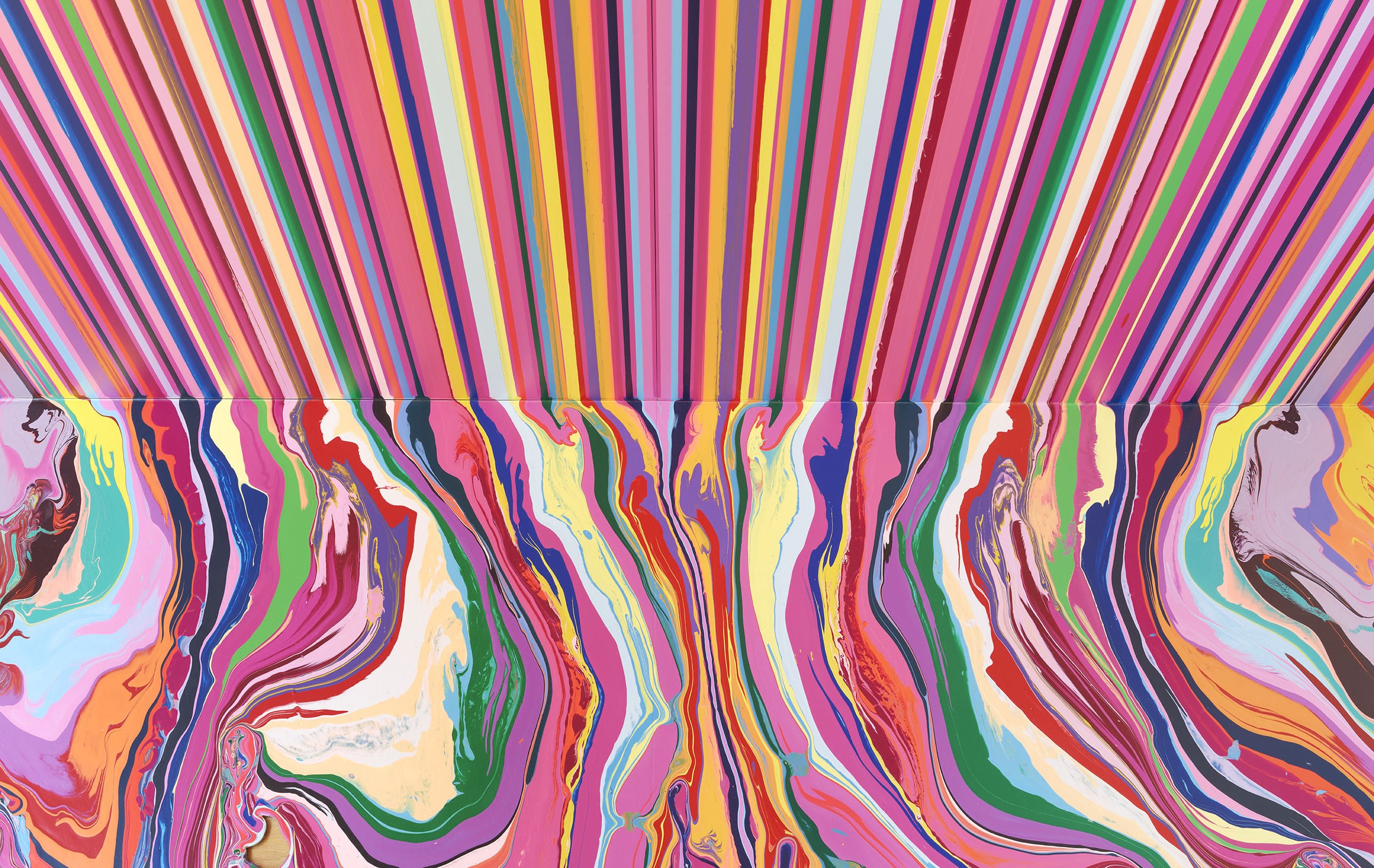 This is your 10th exhibition with the gallery, the first opening in October 1990. What do you remember about that opening? Which are the standout moments over the years?
In 1990 the opening was at lunchtime and there was a good crowd of people. Friends brought flowers and representatives of the Tate and British Council also came. After the viewing we went to the pub and continued the celebrations. The next day there was a great review in a broadsheet newspaper, sadly no longer existing, called the Independent. I could sense my life had fundamentally changed.
One of things I have enjoyed is seeing other people's journeys. Jacob Twyford was one of the technicians at the gallery and very helpful doing that first show. I had decided to change the installation and he recognized the need to rehang the show. He is now one of the senior directors. Michelle Gower was working as a registrar in the early 90s and she has been my artist liaison for many years. Both continue to support and advise me, so I am fortunate to have had that consistency with a gallery. Not that many artists have this experience.