Fernando Botero (b. 1932)
The Unique Monumental Horse
2017
bronze, unique
177 ¼ x 161 ½ x 70 ⅞ in / 450 x 410 x 180 cm
4.96 tonnes
Waddington Custot is pleased to offer the unique monumental bronze sculpture, 'Horse' (2017), by internationally-renowned figurative artist, Fernando Botero (b. 1932, Medellín, Colombia). Botero is the most important Latin American artist in the world today, and has enjoyed a career lasting over six and a half decades. His highly sought-after works have achieved record-breaking sales in auction and the colourful world which Botero depicts, appears ebullient and sumptuous, but underneath, it is saturated in social satire and steeped in art history.
At the age of nineteen, Botero was awarded second place at the 9th Salón Nacional de Artistas, Bogotá, in 1952, and used the prize money to travel to Europe where he enrolled at the Academy of Fine Arts in Florence. By the late 1950s, he had developed an individual style: the inflated, voluminous figures for which he is now famous. Botero has been accepted as a modern master of an established lineage of Italian Renaissance painters. He continues to explore the illusion of space and invention of perspective through volume and colour, distorting his subjects like the exaggerated forms of colonial Baroque churches in his hometown.
The horse is a subject that has gripped Botero since seeing Paolo Uccello's famous cavalry painting 'Battle of San Romano' (c. 1435–60) in Florence in 1953. Although the artist has approached a multitude of themes, including still life, landscape, the circus and bullfighting, the anatomy of the horse as an image has pervaded his oeuvre.
'Horse' is the largest monumental sculpture Botero has ever made. The majestic statue stands at 4.5 metres high, a work of monumental size, an immovable symbol of power. A smaller version was exhibited in Sotheby's Beyond Limits exhibition at Chatsworth, Derbyshire, in 2008.
The largest sculpture ever produced by the artist
Botero's works are installed in public spaces worldwide, and he remains the only artist who has ever been invited to exhibit his monumental sculptures along the Champs-Élysées in Paris. His work is held in over fifty collections worldwide, including Museum of Modern Art, New York; Metropolitan Museum of Art, New York; Hirshhorn Museum and Sculpture Garden, Smithsonian Institution, Washington, DC; Museo de Arte Contemporáneo de Caracas, Venezuela; and Kunsthalle Nuremberg, Germany, among numerous others. He has also been the subject of several important retrospectives, most recently at the prestigious National Museum of China, Beijing, in 2016, touring to the China Art Museum, Shanghai.
'Horse' (2017) displays a powerful muscular chest, round compact body and strong legs, standing erect and steadfast as it looks down on us with the assurance of its past: the Lascaux caves, the Trojan horse, Whistlejacket, Muybridge, amongst others. The presence of the horse in Botero's oeuvre is as continuous as its depiction throughout art history, an image used since antiquity to signify nobility, power, sport and glory. From the equestrian statue of Emperor Marcus Aurelius on Capitoline Hill in Rome, to Picasso's screaming beast in 'Guernica' (1937), the horse has been the companion of man across civilisations and throughout time.
'The subject is always the same, but the way you express it is always different. I have always said that the horse, the man, the tree, they were all always, since prehistoric times, the same, and yet, there have been thousands of ways to express them. The horse of the School of Altamira, the horse of Velázquez, of Caravaggio, of Giotto, of Picasso ... they are all the same horse, but it is the way they express it that is different…'
While studying at the Academy of Fine Arts in Florence in the early 1950s, Botero saw Paolo Uccello's 'Battle of San Romano' (c. 1435–60). The quattrocento Renaissance painting which used newly invented perspectival devices to depict battling horses at various angles, greatly affected the young Botero. His father, a salesman, who died when Botero was only four, rode a horse through the hills of Antioquia; Pedro, the artist's son, is often depicted in his works as riding a hobby horse. As a figurative painter, Botero favours the anatomy of the horse to implement his aesthetic of undulating muscle in exaggerated forms, and evidently thinks this animal as integral to his own personal universe.
Fernando Botero
Fernando Botero was born in Medellín, Colombia, in 1932, to a family of modest means. His uncle enrolled him in a school for bullfighters at the age of twelve, but Botero was primarily interested in drawing. The extravagantly rounded figures characteristic of his work were influenced by the exuberance of the ornate Spanish colonial Baroque churches and palaces that decorate Latin America. Botero appropriated the Baroque art and architecture omnipresent throughout his childhood, by synthesising the Spanish tradition of painting, foremost Velázquez and Zurbarán, and the fantastical imagery of Colombian folk imagery.
After winning second place at the 9th Salón Nacional de Artistas, Bogotá, in 1952, Botero travelled to Madrid where he studied and copied the works of the Old Masters, such as Tintoretto, Titian, Goya and Velázquez, at the Prado Museum. Leaving Spain, Botero attended the Academy of Fine Art in Florence to study fresco technique and toured Italy on his motorcycle to see the quattrocento Renaissance frescoes. He eagerly studied the paintings of Piero della Francesca (1416–92), whose work Botero deems the apotheosis of Renaissance painting, and Giotto di Bondone (c. 1270–1337) who painted in the late middle ages and depicted volume through the synthesis of form and colour. Botero moved to Mexico City in 1955, and encountered first-hand the work of the Mexican muralists, Diego Rivera, David Alfaro Siqueiros and José Clemente Orozco. He was influenced by a sense of the monumental, and the moral imperative of their social realist murals. This encounter encouraged the enlargement of his painted forms and in the following year, Botero painted 'Still Life with Mandolin' (1956) in the exaggerated, large-scale manner that determined his mature style.
Botero made his first bronze sculptures in 1973 after moving to Paris, a material that successfully transformed the voluptuous painted figures from his canvas into three-dimensional sculptures. In 1980, Botero bought a house in Pietrasanta, a town first recognised by Michelangelo for its proximity to the marble mountains of Carrara, and enthusiastically embraced sculpture, saying of the medium: 'Sculpture permits me to create real volume… One can touch the forms, one can give them smoothness, the sensuality that one wants'. Botero's monumental sculptures have been installed in public locations around the world, such as Avenue des Champs-Élysées, Paris; Forte Belvedere, Florence; Broadgate, London; Park Avenue, New York; Michigan Avenue, Chicago; Paseo de Recoletos, Madrid.
Botero participated in the Venice Biennale in 1958 and 1992, and represented Colombia in the 5th São Paulo Biennial, Brazil. He has had major retrospectives at Museum Boijmans Van Beuningen, Rotterdam (1973); Museo de Arte Contemporáneo de Caracas (1976); Hirshhorn Museum and Sculpture Garden, Smithsonian Institution, Washington, DC (1979); Seibu Museum of Art, Tokyo (1981); Museo Nacional Centro de Arte Reina Sofia, Madrid (1987); The Hermitage, St Petersburg; Museo de Bellas Artes, Bilbao (2012); and many others.
Fernando Botero lives and works between Paris, New York and Tuscany.
Read more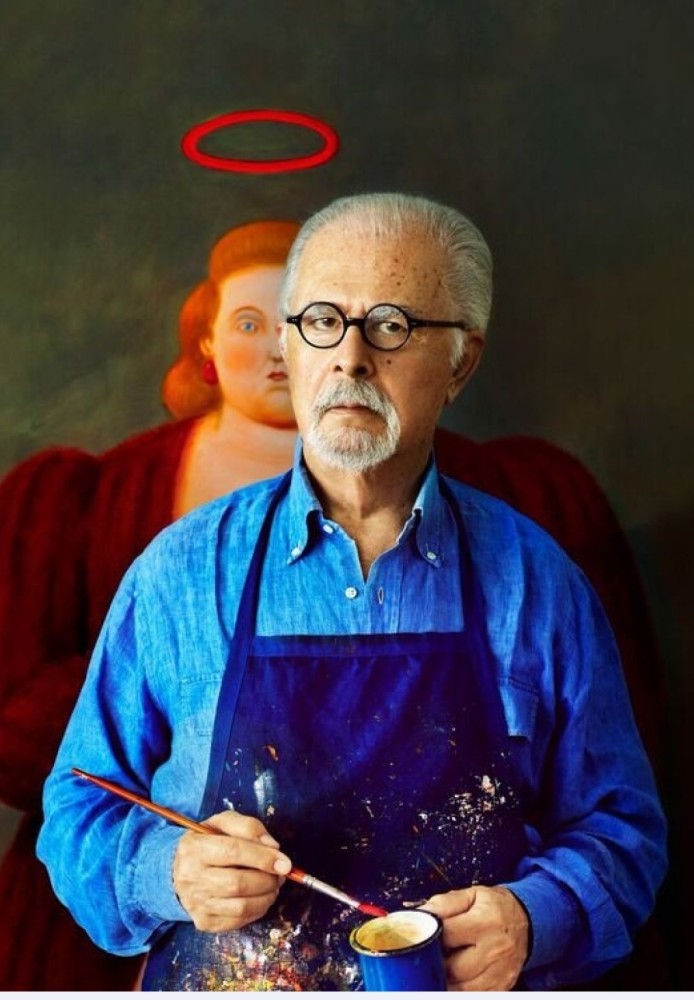 Selected Solo Exhibitions
'Botero in China', The National Museum of China, Beijing, Nov 2015–Jan 2016; China Art Museum, Shanghai, 2016
'Celebración', Museo de Bellas Artes, Bilbao, 2012
'Beyond Limits', Sotheby's at Chatsworth House, Derbyshire, 2008
The Baroque World of Fernando Botero, Musée national des beaux-arts du Québec, 2007; touring to New Orleans Museum of Art, Louisiana; Brooks Museum of Art, Memphis; Colorado Springs Fine Art Center; Crocker Art Museum, Sacramento
Singapore Art Museum, 2004
Israel Museum, Jerusalem, 1996
'Botero: antologica 1949–1991', Palazzo delle Esposizione, Rome, 1991
'Broadgate Venus', Broadgate Development, London, 1990
'Fernando Botero: Pinturas, Dibujos, Esculturas', Museo Nacional Centro de Arte Reina Sofia, Madrid, 1987
Museo de Arte Contemporáneo de Caracas, Venezuela, 1986
Marlborough Gallery, New York, 1985
Seibu Museum of Art, Tokyo, 1981; touring to Osaka Municipal Museum of Fine Art
Hirshhorn Museum and Sculpture Garden, Smithsonian Institution, Washington, DC, 1979
Museo de Arte Contemporáneo de Caracas, 1976
Museum Boijmans Van Beuningen, Rotterdam, 1975
Staatliche Kunsthalle, Baden-Baden, Germany, 1970
Galerie Claude Bernard, Paris, 1969
Staatliche Kunsthalle, Baden-Baden, Germany, 1966
'Fernando Botero: Recent Works', Milwaukee Art Center, Wisconsin, 1966
Read more
Public Collections
Cafesjian Center for the Arts, Yerevan, Armenia
National Museum of Colombia, Bogotá, Colombia
University of California, Berkeley, California, United States
Israel Museum, Jerusalem, Israel
Hanover Museum of Art, Dartmouth College, Hanover, New Hampshire, United States
Museo de Arte Moderno, Bogotá, Colombia
Wallraf-Richartz-Museum, Cologne, Germany
Edwin A. Ulrich Museum of Art, Wichita State University, Wichita, Kansas, United States
Tokushima Modern Art Museum, Tokushima, Japan
The State Hermitage Museum, St. Petersburg, Russia
Tel Aviv Museum of Art, Tel Aviv, Isreal
Staatgalerie Moderne Kunst, Munich, Germany
Sonje Museum of Contemporary Art, Kyungju, South Korea
Setagaya Art Museum, Tokyo, Japan
Pushkin Museum, Moscow, Russia
Ponce Museum of Art, Ponce, Puerto Rico
Niigata Prefectoral Modern Art Museum, Niigata, Japan
New Orleans Museum of Art, New Orleans, Louisiana, United States
Neue Pinakothek, Munich, Germany
The Museum of Modern Art, Saitama, Japan
The Museum of Modern Art, New York, New York, United States
Museum Moderne Kunst, Vienna, Austria
Museum of Art, The Rhode Island School of Design, Providence, Rhode Island, United States
Museum of Art, Pennsylvania State University, University Park, Pennsylvania, United States
Museo Nacional de Bellas Artes, Santiago, Chile
Museo Nacional, Bogotá, Colombia
Museo de Bellas Artes, Caracas, Venezuela
Yamanashi Prefectural Museum of Art, Yamanashi, japan
Museo de Arte Contemporaneo de Caracas, Caracas, Venezuela
Museo de Antioquia, Medellín, Colombia
Museo d'Arte Moderna del Vaticano, Rome, Italy
Miyagi Museum of Art, Miyagi, Japan
Milwaukee Art Museum, Milwaukee, Wisconsin, United States
M.H.K. Foundation, Milwaukee, Wisconsin, United States
The Metropolitan Museum of Art, New York, New York, United States
Meadow Brook Art Gallery, Oakland University, Rochester, Michigan, United States
Lowe Art Museum, University of Miami, Coral Gables, Florida, United States
Kunsthalle Nuremberg, Nuremberg, Germany
Hood Museum of Art, Dartmouth College, Hanover, New Hampshire, United States
Ho-am Museum, Seoul, South Korea
Hirshhorn Museum and Sculpture Garden, Smithsonian Institution, Washington, D.C., United States
Hiroshima City Museum of Contemporary Art, Hiroshima, Japan
Guild Hall Museum, East Hampton, New York, United States
The Solomon R. Guggenheim Museum, New York, New York, United States
The Grey Art Gallery and Study Center, New York University Art Collection, New York, New York, United States
Gramercy Park Hotel, New York, New York, United States
Gelerie-Verein, Munich, Germany
Fondation Veranneman, Kruishoutem, Belgium
Donación Fernando Botero, Coleccion Banco de la Republica, Santa Fe de Bogotá, Colombia
Colección Fernando Botero, Fundacion Santander Central Hispano, Medellin, Colombia
Collezione d'Arte Religiosa Moderna, Monumenti, Musei e Gallerie Pontificie, Vatican City, Italy
Birmingham Museum of Art, Birmingham, Alabama, United States
The Baltimore Museum of Art, Baltimore, Maryland, United States
Ateneumin Taidemuseo, Helsinki, Finland
Astrup Museum, Oslo, Norway
Archer M. Huntington Art Gallery, University of Texas at Austin, Austin, Texas, United States
Read more